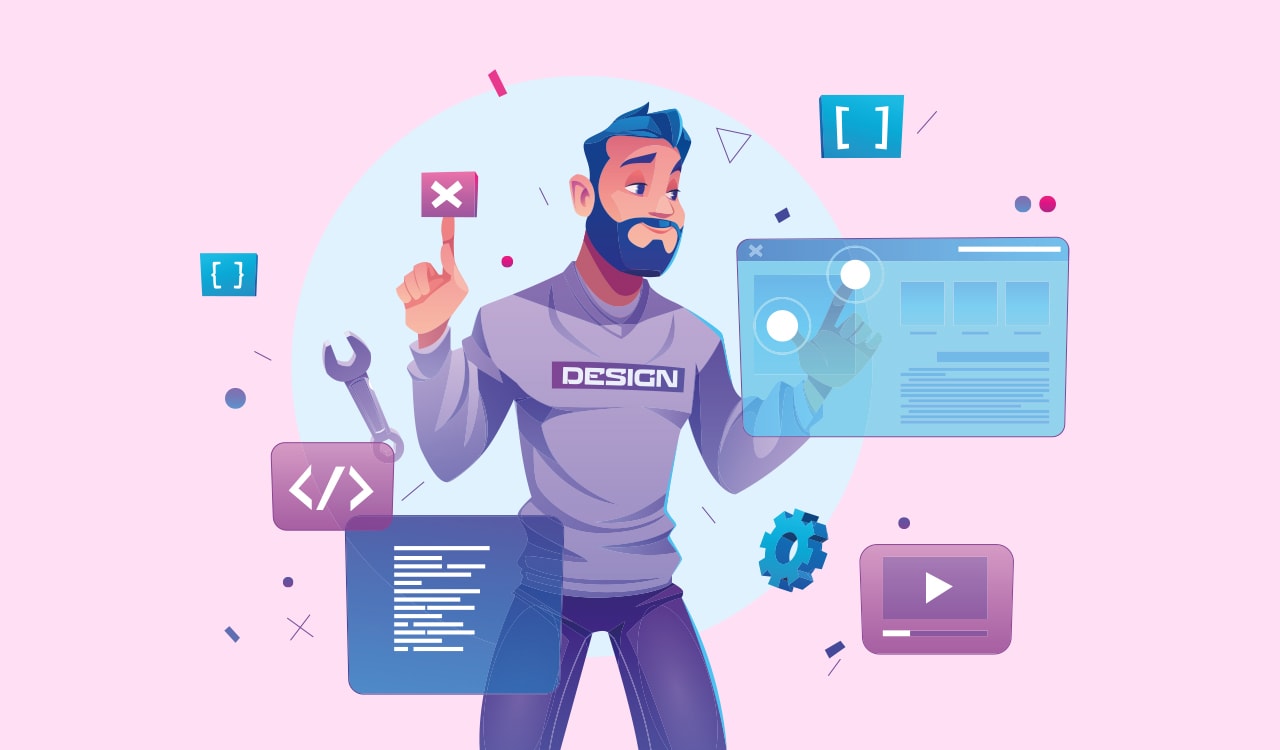 In todays digital landscape, designing a visually appealing and functional website is crucial for achieving online success. One platform that stands out in the world of web design is WordPress. With its versatility, user-friendly interface, and extensive customization options,  WordPress offers a powerful toolkit for creating websites that excel in SEO, social media marketing, and SEM (Search Engine Marketing). 
Why we use WordPress for web design: 

WordPress also features integrated link management, a search engine–friendly, clean permalink structure; the ability to assign multiple categories to posts; and support for tagging of posts. Automatic filters are also included, providing standardized formatting and styling of text in posts (for example, converting regular quotes to smart quotes). WordPress also supports the Trackback and Pingback standards for displaying links to other sites that have themselves linked to a post or an article. WordPress posts can be edited in HTML, using the visual editor, or using one of several plugins that allow for a variety of customized editing features.
Understanding the Benefits of WordPress in Web Design:
When it comes to SEO, WordPress provides a solid foundation. Its clean code structure, responsive design, and easy integration with SEO plugins make it a favorite among search engines. By leveraging WordPress built-in features and optimizing content, businesses can boost their search engine rankings and attract organic traffic.
Social Media Marketing and WordPress
In today digital age, social media marketing is essential for reaching and engaging with your target audience. WordPress makes it seamless to integrate social media into your website design. With WordPress plugins, you can incorporate social media sharing buttons, embed social media feeds, and encourage social interactions, helping to extend your brand reach and foster online communities.
Connecting with People through Social Media Marketing and WordPress
            In todays interconnected world, social media marketing is crucial for reaching and engaging with your target audience. With WordPress, integrating social media into your website becomes seamless. You can easily add social media sharing buttons that encourage visitors to share your website content on platforms like Facebook, Twitter, Instagram. Furthermore, you can display your social media posts directly on your website, allowing visitors to stay updated with your latest updates and interact with your social media profiles.
Getting More Visitors with Search Engine Marketing (SEM) and WordPress
Search Engine Marketing (SEM) involves running online advertisements to drive targeted traffic to your website. WordPress provides the necessary tools to create dedicated landing pages optimized for your SEM campaigns. These landing pages are designed to match the ads and provide visitors with relevant information, compelling calls-to-action, and an overall user-friendly experience. By leveraging the power of WordPress and SEM together, you can increase your website visibility and attract more visitors who are interested in your products or services. 
Enhancing SEM with WordPress
SEM, including pay-per-click (PPC) advertising and Google Ads, plays a crucial role in driving targeted traffic to your website. WordPress empowers you to optimize landing pages, create dedicated campaign pages, and track conversions. By combining the power of WordPress with SEM techniques, you can create compelling campaigns, increase visibility, and achieve your marketing goals effectively. 
Using SEM Strategies to Design Effective Web Pages with WordPress
When running online ad campaigns, it essential to create effective landing pages that align with your ads and encourage conversions. WordPress allows you to design these landing pages with ease. By utilizing visual page builders and customization options provided by WordPress themes, you can create eye-catching and conversion-focused pages. Tailoring your landing pages to match your ad campaigns improves user experience and increases the likelihood of visitors taking the desired actions, such as making a purchase, filling out a form, or subscribing to your newsletter. 
Optimizing WordPress Websites for Search Engines
To make the most of your WordPress website SEO potential, it important to implement best practices. Optimize your site meta tags, headings, and URLs using SEO plugins like Yoast SEO. Ensure your website is mobile-responsive, as mobile-friendliness is a significant ranking factor. WordPress vast library of responsive themes makes it easier to provide a seamless experience across devices. 
Streamlining Social Media Marketing with WordPress
WordPress offers a variety of plugins that simplify social media marketing tasks. Utilize plugins like Social Warfare or Easy Social Share Buttons to add social sharing functionality and encourage users to share your content. Additionally, consider plugins that enable the embedding of social media feeds or allow visitors to sign in using their social media accounts, enhancing user engagement and amplifying your social presence. 
Incorporating SEM Strategies into WordPress Design
With WordPress, you can create dedicated landing pages optimized for your SEM campaigns. Use plugins like Elementor or Beaver Builder to design eye-catching, conversion-focused pages. Ensure your landing pages are well-structured, include compelling calls-to-action (CTAs), and align with the messaging and keywords of your SEM campaigns. Monitor and analyze campaign performance using tools like Google Analytics for continuous improvement. 
Making Your Website Search Engine Friendly with WordPress
    WordPress simplifies the process of making your website search engine friendly. It offers built-in features and plugins that allow you to optimize your website structure, headings, URLs, and other essential elements that search engines consider when ranking websites. Additionally, WordPress provides a wide range of mobile-responsive themes, ensuring that your website looks and functions well on different devices, including smartphones and tablets. This mobile-friendliness is crucial, as search engines prioritize mobile-friendly websites in their rankings.
WordPress has revolutionized web design, offering an extensive array of features and plugins that empower businesses to succeed in SEO, social media marketing, and SEM. By harnessing the power of WordPress, optimizing your website for search engines, streamlining social media marketing efforts, and incorporating SEM strategies, you can design a website that attracts organic traffic, engages with your target audience, and achieves your digital marketing goals. Embrace the power of WordPress, and embark on a journey toward online success. WordPress is a powerful platform that empowers web designers and marketers to create websites that excel in search engine optimization, social media marketing, and search. 
Being a dynamic digital marketing and web design firm in Kochi, we have witnessed firsthand the remarkable efficacy of Google responsive display ads. Our unwavering commitment to fueling business growth has enabled us to serve a diverse clientele, ranging from enterprises to influencers and even esteemed personalities. Our service portfolio encompasses a wide array of offerings, including digital marketing, web design, SEO, social media management, YouTube marketing, graphic design, content creation, video editing, and video production, among others. Moreover, we take pride in providing advanced certification courses in digital marketing, web design, graphic design, and related disciplines. For all your service-related inquiries, do not hesitate to get in touch with us. Feel free to reach out via email at info@cpooldigitallearning.in. For a deeper insight into our expertise and access to trending blogs, we invite you to explore our website at www.cpooldigitallearning.in.