For businesses of all sizes, social media marketing is a great method to reach out to prospects and consumers. Your clients are already connecting with companies on social media, and you're missing out if you're not speaking directly to them on sites like Facebook, Twitter, Instagram, and Pinterest. Great social media marketing may help your company achieve extraordinary success by cultivating loyal brand advocates and even driving leads and sales.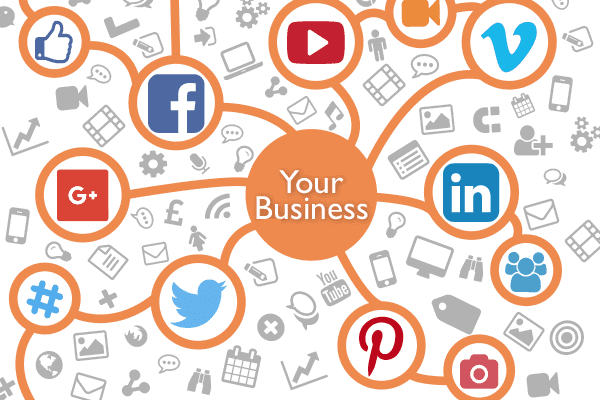 The use of social media platforms to sell or promote a brand, product, or service is known as social media marketing.
Businesses benefit from social media marketing in the following ways:
Boost brand recognition
Create communities that are active.
Native social commerce systems can be used to sell items and services.
Social listening can be used to gauge brand sentiment.
On social media networks, provide customer service.
Advertise their goods and services to the right people.
Tips for Effective Social Media Marketing
Are you ready to start promoting on social media? To help you get started with your social media efforts, here are a few social media marketing recommendations.
Content Planning for Social Media: It's simple to get started with social media for company. We all use social media in our daily lives, therefore we're all familiar with the platforms. It costs nothing to set up a Facebook page for your company, start posting on Instagram, or start a Twitter account. You have no clear goal for what you're trying to do if you don't have a plan. That means you have no way of knowing if your investment is paying off.
Choose the platforms that are best for you: It doesn't have to be an all-or-nothing situation when it comes to platform selection. You can utilise several social media platforms to reach different audiences or achieve different business objectives. You'll need to conduct your own study to ensure that you're properly using social media for business. This will assist you in gaining a better understanding of how your target audience spends their time online. You can connect with them on multiple platforms for different objectives because the average internet user has 8.4 social media profiles. You might, for example, utilise Facebook to grow your following and create leads, and Twitter to provide customer care.
Know your audience: One of the most powerful aspects of using social media for business is the ability to micro-target your audience. But first, you must determine who your target audience is. Begin by gathering information about your present consumers. Then use social media analytics to delve even deeper. You'll soon see who's buying from you and communicating with you on the internet.
Great Social Content : When it comes to social media marketing, content reigns supreme, as it does in other aspects of internet marketing. Make sure you update on a frequent basis and provide truly useful material that your ideal clients would like. Social media photos, videos, infographics, how-to instructions, and other types of material can all be shared on social media.
Investigate the competition: How are they using social media? While you don't want to duplicate what they've done, learning from their mistakes is a terrific approach to shorten your learning curve. A competitive study can assist you figure out what works and what doesn't for organisations similar to yours.
How to Pick the Right Social Media Platforms for Your Business
Here's a quick rundown of how to use social media for marketing based on the user base and climate of each network. Develop a distinct strategy geared for each platform, as different social media marketing sites require different tactics.
Facebook: Maintain a light and welcoming tone while using Facebook for social media marketing. Facebook is a place where people go to relax and communicate with friends. Remember that organic reach on Facebook might be extremely limited, so consider a low-cost Facebook ad campaign that can have a significant impact on your organic presence as well!
Twitter: Twitter is a social media marketing platform that allows you to share your updates with the entire world. Follow people in your industry or fields that are linked to yours, and you'll get a regular supply of followers in return. Mix in some entertaining, brand-building tweets with your formal tweets about offers, discounts, and news. When a consumer says anything wonderful about you on Twitter, repost it, and when you can, answer people's inquiries. Using Twitter as a social media marketing tool is all about dialogue and communication, so make an effort to interact as much as possible to grow and nurture your following.
YouTube: YouTube is the most popular platform for uploading and sharing video material, and it can also be a very effective social media marketing tool. Many businesses attempt to generate video content in the hopes of having it "go viral," but the chances of this happening are small. Rather, concentrate on making practical, educational "how-to" films. These how-to videos also benefit from being ranked in Google's video search results, so don't underestimate the value of video content!
LinkedIn: One of the most professional social media marketing sites is LinkedIn. LinkedIn Groups is a wonderful area to start a professional conversation with people in similar sectors and share material with others who share your interests. It's also a terrific place to advertise job openings and network with coworkers. Encourage consumers or clients to leave a LinkedIn endorsement for your company. For new consumers, recommendations make your firm appear more genuine and reliable. Also, look through LinkedIn's Questions section; answering questions establishes you as a thought leader and builds trust.
Google+: You may use Google+ to publish and share photographs, videos, and links, as well as see all of your +1s. Make use of Google+ circles, which allow you to divide your followers into smaller groups and share information with some while keeping others in the dark. You could, for example, create a "super-fan" circle and exclusively share special discounts and offers with that group.
Cpool Digital Learning, No. #1 digital marketing, website designing, mobile application development company in Kochi, Kerala. We serve clients with all matters regarding Website Design (WordPress, php, .net, phython, html, shopify), Search Engine Optimization (SEO), Search Engine Marketing (SEM), Social Media Marketing (SMM), Mobile application.. Please Contact Us with any questions regarding digital marketing, mobile application, website design services. We'd be delighted to help you to boost your business online.  
#digitalmarketingcompanyinkochi #digitalmarketingcompany #digitalmarketinagency #webdesigncompany #webdesignagencyinkochi #webdesigncompany(php, .net, phython,html, shopify) #socialmediamarketinagency #digitalmarketingagencyinkochi #digitalmarketingcompanyinkochi #bestdigitalmarketingcompanyinkochi #bestdigitalmarketingagencyinkochi #digitalmarketinginkochi #digitalmarketingservicesinkochi #mobileappdevelopmentcompany