From a designer's perspective, they know how important it is to align your vision with the project idea through design. Whether you are communicating with the client or trying to create an internal design, how you communicate your initial vision will decide the outcome. Your design will communicate the brand or business to the world. Your job is not always fun. It has many responsibilities.
          We believe mood boards can help us. A design mood board is an excellent setup to start any project because it can act as a visual reference as well as a place to springboard more ideas throughout the project. Even the best designers are thriving to move past the industry competition. It is high time to keep up with the track.
          A design mood board is a collection of visual concepts that will serve as the foundation for your project. It gives the freedom to collaborate with team members and stakeholders. More visual clarity while telling with a mood board. 
Popular mood board creation apps and tools
 1. Canva
2. Go moodboard
3. Mural
4. Milanote
5. Figma
6. Moodboard Builder
7. Adobe spark
Canva
Key features
# can use to create social media posts, presentations, posters, videos logos, and more.
# collaborate anywhere in the world
#   A wide range of textured backdrops for a cool, lived-in look.
# Their design grids keep your photographs crisp and give you the freedom to play out of the box.
# from simple three-frame compositions to sophisticated groupings.
Go moodboard
Key features
# No account creation need
# Lightweight interface and user experience that focuses on drag and drop uploading
# Organizes images in rows on a white background with the ability to view individual images in detail within a light-box
Mural
Key features
# multi-player collaborative workspace
# built-in icon library
# User-friendly commenting functionality
# Wide selection of tools to visualize your ideas – freehand drawing, sticky notes, connectors, and shapes
Milanote
Key features
# Integration with Unsplash provides 500K+ images
# Chrome Extension allows you to save images from around the web
# Support for both video and font files
# Built-in commenting and sharing
# Ability to arrange and organize items on the canvas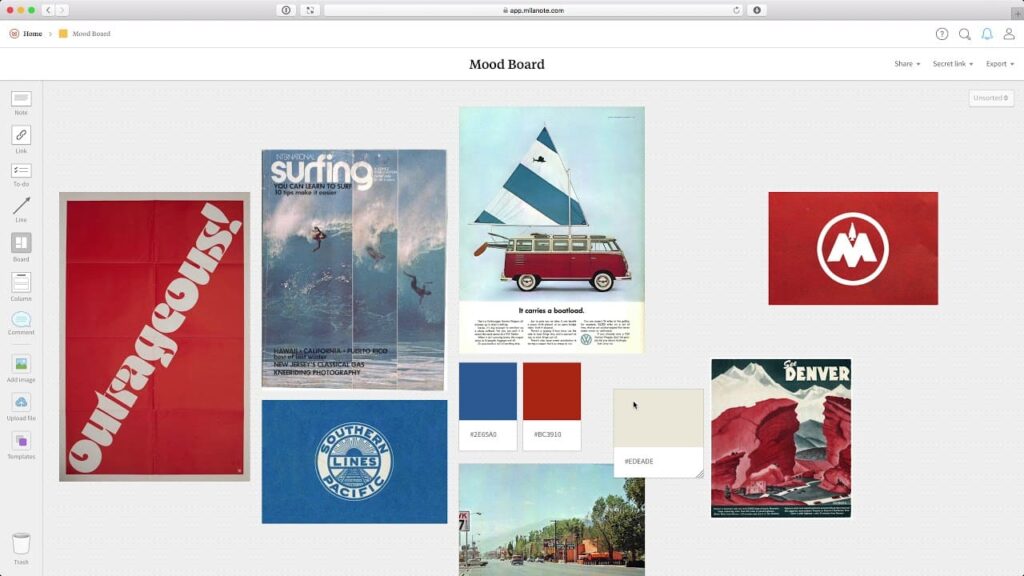 Figma
Key features
# The ability to use core Figma capabilities such as multi-player, prototyping, and auto-layout.
# If you're already a part of the Figma ecosystem, this helps you to reduce the number of tools you use and manage your entire design process in one spot.
# Their extensive plug-in library can improve the efficiency of your mood boarding procedure.
# Figma Community provides templates that can be tailored to your project's specific requirements.
Moodboard Builder
Key feature
# Plugin designed exclusively for Sketch integration.
# Search capability that searches Behance for photographs that meet your criteria.
# Adds photographs in a streamlined manner and generates a mood board with a single click.
Adobe spark
Key features
# A wide range of templates to utilize as a starting point for your next mood board.
# Use on the move with iOS and Android apps.
# The platform's integration with Unsplash and Pixabay gives you access to thousands of free photos.
 Tips to create mood boards for a better experience
          Understanding and defining the theme is mainly important when beginning a project. The quality of the best graphic designer is making wise choices. To determine the importance of composition, use size. An expert in graphic design can tell you more. Before finalizing a design, conduct the required study and organize the results. Include information from a range of visuals instead of focusing on one reference. Think and work on the large before diving into micro details. The best graphic designers worldwide say designing is like a blend of art meeting creativity. To become a graphic designer expert, you have to go beyond your vision. Sometimes taking a risk or doing something out of the board will bring the best.
          Are you in search of a digital marketing expert? A team of experts is waiting to help you. Cpool digital learning is a fast-growing digital marketing company in Kerala. We provide all kinds of digital marketing services including web designing, Search Engine Optimization (SEO), Search Engine Marketing (SEM), social media marketing, social media page management, graphic designing, content creation, video creation and editing, YouTube marketing, animation video making and also providing training on digital marketing, web designing, and graphic designing. Want to grow your business online, email us right away.
          We'd love to hear from you and see your mood board stories. Connect with us at info@cpooldigitalleaarning.in. Visit our website www.cpooldigitallearning.in for digital marketing related services and similar blogs