1.What impact will COVID-19 have on present and future online consumer behaviour around the world?
2.How can brands use testing, experimentation, and personalisation to change their digital strategy?
3.What impact does COVID-19 have on consumer digital trends today and in the future?
We asked people how it's changing their behaviour and what that implications for digital marketing strategy. Years of change in the way companies in all sectors and areas do business have resulted from the COVID-19 disaster. According to a new McKinsey Global Survey of executives, their organisations have sped up the digitalization of customer and supply-chain contacts, as well as internal operations, by three to four years. And the proportion of their portfolios that are digital or digitally enabled. Almost all respondents believe their organisations have put in place at least interim solutions to fulfill many of the additional demands placed on them, and that they have done so considerably faster than they had anticipated before the crisis. Furthermore, respondents believe that the majority of these changes will be long-lasting, and they are already making the types of investments that will almost certainly assure that they will. When we asked executives about the impact of the crisis on a variety of metrics, they said that funding for digital initiatives has increased more than anything else—more than costs, the number of people working in technology jobs, and the number of customers.
The onset of the Covid-19 epidemic threw every business's projections into disarray, including digital marketing's. The desire to shift gears as soon as possible was driven by the health scare factor. The shift to remote labour, pushed by social distancing policies, has necessitated virtual brand promotion, customer interactions, and, in general, business operations. The crushing effects of the pandemic's initial wave in the early months were long-lasting and, in the case of some enterprises, potentially permanent.
Take, for example, how a few garment companies swiftly shifted their focus to developing and distributing masks to the general public, and how a few distilleries refocused their entire operations to produce hand sanitizer in response to increased demand. On the digital front, some firms took to social media platforms, offering free tutorials or courses, free trials, or interesting and entertaining material to entice customers who were forced to stay indoors.
Why Do Small Businesses Need a Digital Marketing Strategy Now, More Than Ever?
The internet revolution of the 1990s spawned many unicorn firms such as Google, Amazon, and Facebook, ushering in a new era of online shopping, socialising, and interacting. Surprisingly, these are the businesses that have fared the best throughout the COVID-19 economic downturn. In reality, Amazon is thriving in these challenging times, with its stock, reaching new all-time highs! No one can deny the importance of digital platforms, with over $600 billion in items and services sold online in the United States alone in 2020.
Even if you don't sell your items online, you should consider digital marketing as a viable and scalable growth engine for your business. Every channel should, ideally, be fine-tuned with the others to produce the most stable and efficient outcome for your company.
What is the process of our digital marketing campaign?
Increase Website Traffic — Use content marketing (blogging), email marketing, search engine optimization (SEO), pay-per-click marketing (PPC), and social media to increase website traffic.
Convert More Leads — Once your website has more visitors, you must convert them from anonymous internet visitors to recognised leads. This is accomplished through enticing downloadable content offers (such as ebooks and webinars), email lead nurturing, A/B testing, and appealing videos.
Close More Sales – Leads are useless if they don't result in a sale. We provide additional tools and data to your sales staff and assist them close more leads we deliver.
Popular Digital Marketing Techniques Include:
1.Social Media Marketing
The most significant digital marketing tactic is a strong social media presence. There are numerous methods for promoting a company's social media presence. Employing social media influencers to promote businesses on their own social media accounts, as well as brands actively posting and engaging on their accounts to promote their image, are examples of this.
2.Search Engine Optimization
Search Engine Optimization, or SEO, is a digital marketing method that entails increasing traffic to a website by ensuring that it ranks higher in search engine results, such as Google's. This method aids in corporate marketing by increasing brand awareness.
3.Email Marketing
Email marketing is a terrific way to attract people to return to a business and buy new things. After a customer makes a purchase, a business must first convince them to sign up for an email list. Then, based on the information they gained from the emails, these clients are quite likely to return.
4.Content Marketing
Information marketing is the process of continually producing valuable and relevant content across several channels. By positioning itself as a corporation that is in touch with and vital to the world, a brand may utilise content marketing to increase brand awareness. Nike, for example, is continually conducting ad campaigns for athletes who are on the rise.
5.Video Marketing
Because of the easy access to videos that technology has offered, video marketing works well with content marketing and is also a prominent approach in digital marketing. Companies may instill a lasting brand image in the minds of their audiences and encourage them to consider purchasing by producing high-quality commercials.
6.Web Advertising
Create clickable adverts for placement on famous websites to help brands sell themselves more successfully. Advertisements for various companies may display on the side of an article on a website such as ESPN or CNN.
7.Affiliate Marketing
Affiliate advertising is when a corporation pays a valuable spokesperson with a large audience, such as a blogger or social media influencer, to write about their firm in order to enhance its circulation. Kylie Jenner, who is in the top ten on Instagram in terms of total followers, recently tweeted about a brand named Fashion Nova.
8. Search Engine Marketing
If you're unfamiliar with search engine marketing, it's commonly abbreviated as SEM. It's a type of Internet marketing in which you use paid advertising to improve your SERPs.
9.Pay-per-click
Your brand has the potential to reach millions of individuals all over the world in just a few minutes. The reach and ability to target specific audiences of pay-per-click (PPC) marketing is tremendous.
Let's discuss about Scope of Digital Marketing post-pandemic: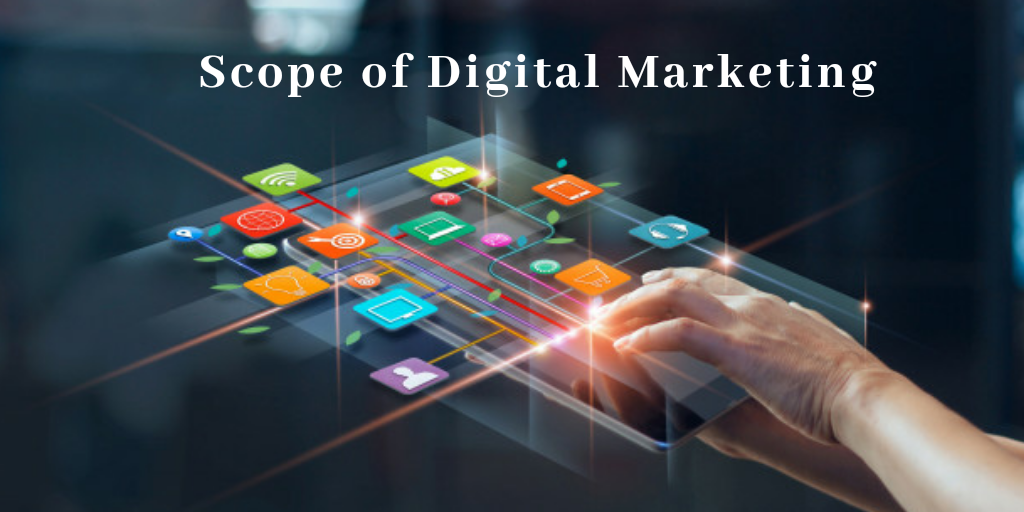 Virtual advertising and marketing is fast turning into an crucial a neighborhood of advertising and logo merchandising sports, specifically due to the growing pull towards online enterprise. Citizenry are gravitating extra toward online buying in situ of venturing bent attend the nearby shops. This has made it imperative for neighborhood corporations and foremost businesses to adopt and grasp virtual marketing and advertising strategies. Employers are checking out professionals in virtual advertising and marketing to help them during this power. Digital advertising is true here to measure . Smaller corporations are now locating it extra comfortable to satisfy their advertising needs without pinching their pockets. Virtual advertising has provided value-effective alternatives to logo their products throughout to their purchasers and assist in logo constructing exercising. An increasing number of channels are being created to create a digital advertising method. Virtual advertising strategies offer scope for extra accuracy and help recognize each channel's effectiveness and improvement potentialities and ultimately maximize your return on investment.
Why Us
Cpool Digital Learning, the best digital marketing, website designing, mobile application development company in Kochi, Kerala. We serve clients with all matters regarding Website Design (WordPress, php, .net, phython, html, shopify), Search Engine Optimization (SEO), Search Engine Marketing (SEM), Social Media Marketing (SMM), Mobile application.. Please Contact Us with any questions regarding digital marketing, mobile application, website design services. We'd be delighted to help you to boost your business online.  
#digitalmarketingcompanyinkochi #digitalmarketingcompany #digitalmarketinagency #webdesigncompany #webdesignagencyinkochi #webdesigncompany(php, .net, phython,html, shopify) #socialmediamarketinagency #digitalmarketingagencyinkochi #digitalmarketingcompanyinkochi #bestdigitalmarketingcompanyinkochi #bestdigitalmarketingagencyinkochi #digitalmarketinginkochi #digitalmarketingservicesinkochi #mobileappdevelopmentcompany